Core Aeration
Yards By Us can help your grass BREATHE! With core aeration we remove small plugs of soil throughout your lawn to improve the flow of air, water, and fertilizer into the root zone of the lawn. Core aeration remedies "root choking" and compacted soil problems. It is also effective in reducing the build-up of thatch in the lawn. The procedure is usually done in the fall and seeding is also recommended at that time.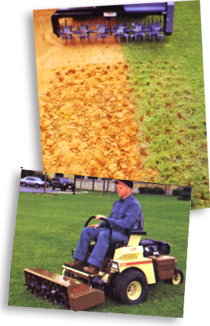 Aera-Vation
The AERA-VATOR is the latest turf and lawn aerator on the market today. This state of the art machine uses steel forgedvibrating tines that fracture compacted clay-like soils, and has the ability to stir and loosen the soil beneath the sod without destroying the turf on the surface. The harder and dryer the soil, the better the AERA-VATOR works! Since the AERA-VATOR provides the ability to aerate dry soil, this reduces the time and expense of scheduling irrigation prior to use. The soil disturbance caused by the vibrating tines stimulates thatch decomposition with the shattering of loosened soil. The Yards By Us AERA-VATOR unit softens the soil around and between the holes creating more of an opening for root growth and absorption of water, air, nutrients and treatments.
Lawn Seeding
Yards By Us provides custom blended seed with the best performing fescue varieties. Not only is our seed sod quality, but also tag certified weed-free for the best possible results. Yards By Us uses seeding equipment for all conditions, both wet and dry.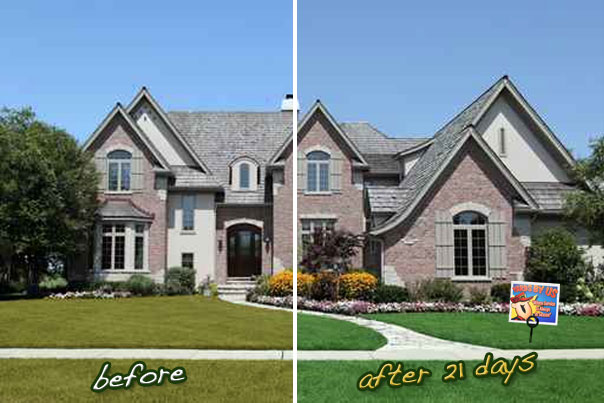 We also have the right equipment for all lawns, big and small. For example, a small core aerator is used for smaller lawns, and an AERA-VATOR is used for bigger lawns. We utilize a drop spreader which helps to avoid grass in plant beds, and creates a neat, straight edge along your lawn and landscape.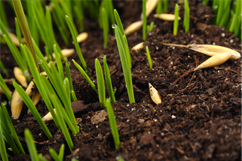 Yards By Us takes time to do handwork for bare spots in the lawn. We use a custom blended tall turf fescue blend specially formulated for the clay soils found in the Triad. In shaded areas we use a special blend of shade grass seed that can better tolerate shade throughout the growing season.
A normal fescue lawn loses about 1/3 of its grass population every year. The life cycle of fescue is about three years, so it is important that if a healthy strand of grass is to be maintained, 1/3 of the grass needs to be replaced every year. We seed at a rate of 10 pounds of seed per 1,000 square feet.
Recommended Service Frequency
We recommend aeration services be performed yearly during the autumn months of September-November. Yards By Us will beat all competitors' prices with our price match guarantee*. Contact us today for a FREE quote on your aeration and lawn seeding needs.

*Prices matched only on written estimates by reputable lawn care services, at the discretion of Yards By Us.