Gutter Cleaning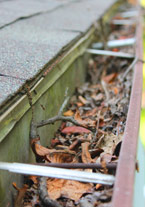 The Yards By Us Gutter Cleaning services include: gutter cleaning, downspout cleaning, roof cleaning, and french drain cleaning. Our dedicated professionals deliver high quality work that is efficient, and always includes a superb clean-up when any gutter cleaning service is completed. Your 100% satisfaction is GUARANTEED!
Recommended Service Frequency
We recommend gutter cleaning service at least twice per year. For best results, have your gutters cleaned in the spring after the bulk of the seasonal pollen has come to rest, and in autumn after the leaves have fallen.
Protect Your Investment
Regularly scheduled gutter cleanings protect your home or business from the devastating effects of water damage. Clogged gutters which are backed up and do not drain properly can be a costly liability. Even if you have installed a gutter guard or gutter screen system, smaller objects such as silt and granules from your roof shingles are not impervious to a gutter guard or screen. Heavy sludge can build up and clog gutters and downspouts, potentially damaging your home or office building. The importance of keeping clean gutters must not be overlooked! The Yards By Us Gutter Cleaning service is extremely cost-effective, and our recommended twice-per-year service average cost is less than the cost of installing a gutter screening system, which prove to be mostly ineffective.
Piping Off Gutter Down Spouts

If you have ever had water trickling into your basement or crawlspace, it is more than likely due to poor drainage and gutters emptying out around your foundation. By piping off your gutter down spouts, we can re-direct the water to flow away from your home to another section of your property. This will help prevent costly erosion problems as well as prevent mold and mildew issues inside your home. Most applications are installed with a pop-up drain to prevent debris and animals from clogging up the pipe.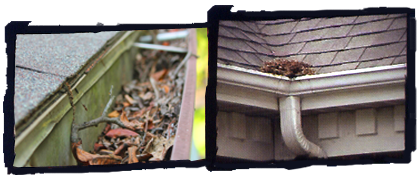 Leaking Basements & Cracked Foundations




Clogged gutters are the number one cause of basement water problems. When roof water overflows it accumulates around the foundation, thus creating basement leaks that can weaken the footings and lead to cracks.
Rotten Wood




Gutters with debris piled up above the flashing or shingle line can develop moisture on the fascia board. Since the debris acts like a wick by bringing water in the bottom of the gutter up to the fascia, the excessive moisture begins to rot away at the roof sheathing and framing. Many homeowners have spent thousands of dollars replacing rotten wood which could have been prevented by an inexpensive and professional Gutter Cleaning service provided by Yards By Us.
Animals & Wood Destroying Insects




When gutter cleaning is neglected, water will naturally pond in areas dammed by debris. The moisture caused by the debris makes your gutters an ideal spot for breeding mosquitoes. Plants, birds, insects, and even mice can make a home in gutter debris.