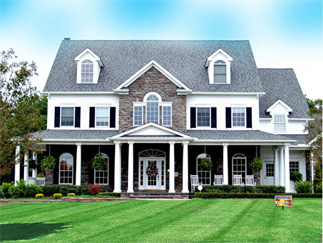 Let Us Pamper Your Yard
Yards By Us will bring new life to your lawn with our custom blended sod-quality seed, continuous weed monitoring, and fertilization. We offer a complete seven-step lawn care application program specifically formulated to enrich your lawn with essential nutrients and eliminate unwanted weeds. We specially customize our program to suite the specific needs of your yard; Yards By Us even offers an organic lawn care application program.
Continuous Monitoring
Yards By Us inspects your lawn, and determines its needs before the first lawn treatment is made. Each treatment is recorded and the lawn is continuously monitored to ensure it is progressing as scheduled. If a problem develops between applications, you can contact our office and Yards By Us will dispatch a Lawn Care Specialist to take care of the problem within 48 business hours or less.
Lime Soil pH Control
An application of lime is calculated from the soil analysis to balance pH levels and correct soil mineral levels (pH measures the acidity and alkalinity of the soil). For quality turf grass, soil pH should be kept near a level of 7.0. When pH is not in range the effective use of nutrients in the soil is lost. An application of lime, usually in pelletized form, raises soil pH and adds calcium. This product is spread at a rate of 50 pounds per 1,000 square feet.
No Common Argriculture Fertilizers
Your lawn will receive six feedings throughout the year. Our fertilizers are 50% slow-release and typically last twice as long as our competitors. No common agriculture fertilizers are used.
Bermuda Grass Control and Kill-Out
This program consists of doing what's called a 'kill out' of the warm season turf, typically known as Bermuda Grass. During the month of August, Yards By Us will come out four times, roughly one week apart, and apply herbicide to kill out the unwanted Bermuda Grass. Timing is very important to the success of this treatment. This approach selectively suppresses Bermuda without killing the entire lawn. Timing is crucial to the success of this treatment program. Contact our office to ensure proper scheduling.
Crabgrass and Annual Weed Prevention
Two applications of crabgrass pre-emergence are made during the spring season to prevent crabgrass and controllable annual weeds from invading the lawn throughout the season.

Early Spring




The early spring visit consists of a special blended fertilizer that jumpstarts the lawn and promotes early spring recovery from winter stress. Weed controls are also applied.

Late Spring




Extra nutrients are applied to maintain color and vigor. Your lawn is also treated with weed controls and a crabgrass pre-emergence application for crabgrass elimination throughout the season.

Early Summer


A slow release fertilizer containing iron is applied to develop a root system that withstands summer stress. Weed control is applied and we also inspect for fungi and grubs.

Late Summer


Disease and insect control may be recommended at this time. Another treatment of slow release fertilizer is applied to maintain vigor and color throughout the summer without forcing unwanted growth. Gypsum, a natural soil conditioner, is applied. Gypsum loosens clay and compacted soils. This enables grass and plant root systems to penetrate deeper into the soil and reduce soil compaction.

Early Fall




A fertilizer is applied to thicken your lawn and encourage root growth. Aeration is recommended to condition your soil, along with over-seeding to replace grass blades that are at the end of their life cycle.

Late Fall




This application contains a special blend of fertilizer that promotes root growth and food storage, which is important for survival throughout the winter. More root growth occurs during late fall than any other season.

Winter




Lime is applied to your lawn to help neutralize your pH level and to maintain proper acidity levels in your soil. Lime also provides calcium, which is an important nutrient for a healthy root system and plant growth.



Additional Premium Lawn Care Services:


Aeration & Overseeding - Yards By Us can help your grass BREATHE! With core aeration we remove small plugs of soil throughout your lawn to improve the flow of air, water, and fertilizer into the root zone of the lawn. We also offer custom blended seed with the best performing fescue varieties, and seed at a rate of 10 pounds of seed per 1,000 square feet!


Grub Protection - We provide season-long protection against damaging lawn grubs. An unprotected lawn can be wiped out completely before the homeowner even knows they are there.


Disease Control -

If disease threatens your lawn, Yards By Us has the full array of disease controls to stop the spread of almost any disease. We can also apply preventative applications.

Insect Protection - We eradicate summer lawn-damaging insects such as sod webworms and chinch bugs. We also offer flea, tick, and mosquito control.



Mole and Vole Treatments
Contact us for details, and to request your FREE lawn care analysis and price quote.