Ornamental Tree & Shrub Care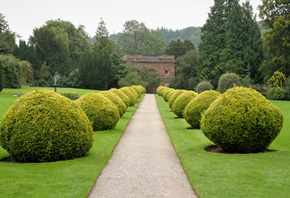 Ornamental trees and shrubs enrich the way we live and enhance the beauty of our landscapes. They also add curb appeal and value to your property. Protect your investment with our exclusive Yards By Us Ornamental Tree and Shrub Care 7-Step Application Program.

The Yards By Us Process

Our seven application program was carefully designed to provide very important and timely care of the ornamentals. Treatments are performed every six to seven weeks. From fertilizations to insect and disease control, your ornamental trees and shrubs will receive the attention and care that they deserve.

Insect and Disease Control
Insect and disease control is an essential part of our tree and shrub care program. The trouble with many insects is that you rarely see them. You only see their damage, and by then it may be too late. Your Yards By Us specialist is highly trained to recognize potential and existing pest problems. Many feeding insects are damaging to healthy plants, and our team of professionals will work with you to control them. Your designated Yards By Us specialist will also help by identifying diseases that aren't always easy to spot, diseases that would otherwise damage the plant and spread to the surrounding foliage. Many of these can be controlled using our Tree and Shrub Care Program.

Fertilization
Fertilization is also vital to your trees and shrubs, because unlike the trees and shrubs which are found in forests ornamental trees and shrubs are subject to harsher soil types and conditions which require constant fertilization to keep a healthy root system. The Yards By Us Two-Step Deep Root Feeding Fertilizer applications not only improve the appearance of your ornamental trees and shrubs, but also help them to better withstand minor insect and disease problems including drought and other stresses. Fertilization alone isn't the cure for all problems, but we have found that well nourished trees and shrubs don't have as many problems as unfertilized ornamentals.
Receive Personal Attention and a FREE Quote
Our certified technicians will take the time to learn your landscape and answer your questions and address any concerns that may arise. Contact us today to have a professional estimator inspect your trees and shrubs and provide a free quote for your ornamental tree shrub care program.