Plant Bed Care
Are you tired of pulling weeds from your natural areas and plant beds? Does it seem as if weeds begin popping up from your natural areas just as soon as you finish weeding them? Or do you just lack the time or energy to go outside and do the service yourself? Yards By Us has the perfect solution. We offer convenient, affordable, and flexible scheduling for your plant bed care.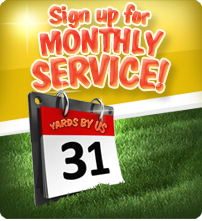 Monthly Service & Monitoring
We offer pre-scheduled monthly service for the care of your plant beds and natural areas, and we also customize service plans so that you receive your plant bed care during specific months of the year. With the Yards By Us plant bed care service program, you will be assigned a technician to monitor your landscape and natural areas on a regular basis. Once a month, our crews weed your natural areas, driveway cracks, streets, parking lots, and flower beds. Round up and pre-emergent weed control treatments are also applied.
Contact Yards By Us today to request an estimate for pre-scheduled monthly service for your plant beds and natural areas!